August, the heat of heat. For girls this time to wear underwear is simply torture, especially flat chest sister also wear that kind of thick mat of the kind, especially to the chest to wear a cotton that is really hot ah! If you wear a shoulder strap, that thick shoulder strap even more embarrassing ~
At this time, most of the sister will choose to put underwear on the transparent shoulder strap, and then put on the shoulder strap, however, transparent shoulder strap is not only the meat, no beauty, but also people's eyes more focused, did not play hidden The role of ah.
In fact, you can choose to throw away the transparent shoulder strap, fashion circles now how can this thing, just wear a beautiful back than it looks good ~ this summer, in addition to the United States back, try thin underwear it!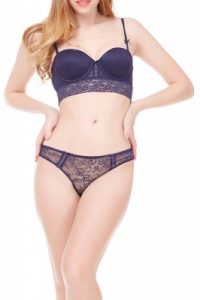 Men's favorite "looming" feeling, inadvertently exposed lace edge of this high-level sexy than the big chest sister deliberately exposed chest more attractive.
1. Ladies Lace Underwear Comfortable Yarn Transparent Bra Set Ultra Thin Ventilation Large Size Sexy Temptation Bra
Ultra-thin bra, thin and not through, the use of imported yarn material, environmental health, put on no sense of restraint, no burden to protect the breast, highlighting the female curve.
2. ultra-thin bra no steel ring without sponge triangular cup transparent lace was small chest sexy belt bikini underwear
This section underwear without steel ring without sponge, cup double-layer fabric, more breathable fit skin, shoulder strap is more delicate, it is particularly good looking clavicle.
3. Europe and the United States sexy ultra-thin lace bra thin transparent half cup underwear suit net yarn sponge bra no summer women
Similar to the transparent light cup, comfortable and breathable, delicate delicate lace embroidery, deep V looming, hazy seductive, sexy stuff is you.
4. summer lace sexy lingerie women without steel bra bust gathered against the light wrapped chest chest bra bra thin model cup
With a cup cup, independent removal of the inserts, large chest with a small chest with free, plus side side of the auxiliary milk, effectively adjust the armpit fat, to prevent the chest outside the expansion.
Since the choice of thin underwear, of course, will show out! Wearing a perspective of the blouse, so you keep the rate of 100%.