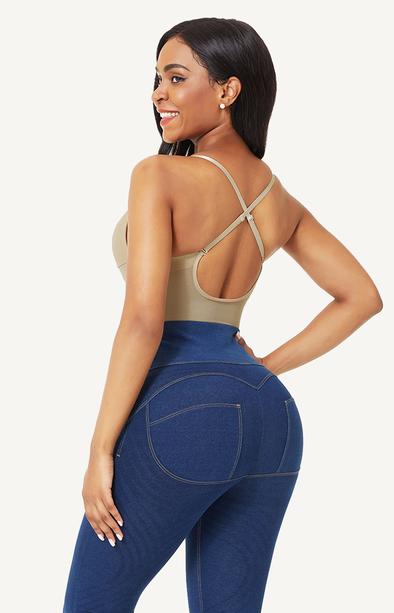 Shapewear is the most wanted item on the list of shopping for women. The reason is obvious. They dissolve the unnecessary body fat and give her a slim and sexy look. In earlier days shapewear used to be right fitted and quite a pain in the neck.  They have evolved into different styles and fabrics that provide comfort and support to women. Women can wear it at an office party, a formal dress, or a party dress. There are so many selections that choosing one can be an arduous task.  
There is a lot of shapewear for different body parts. Given the revolution in its styles, some are essential for every wardrobe.
AirSlim® High Waist Brief Panty
These are not your normal panties. They are slimming panties.
They are made of a soft and breathable fabric that makes them comfortable to wear.
It flattens the lower stomach fat and love handles. It is best shapewear for tummy and waist.
It doesn't strain the skin due to its easy movements.
You can fix them on your bra to prevent them from falling.
PowerConceal™ Lycra Seamless Thong Bodysuit
For an overall slim look opt for a bodysuit option.
It has adjustable options for sizes
It slims down the torso, back, stomach, hips and thighs.
It highlights the curves.
It is lightweight and very comfortable.
PowerConceal™ Seamless Tummy Tucking Butt Lifter
This shapewear focuses on the hip muscles and stomach fat and gives a neat look.
Slims from the stomach to thighs. It supports the lower back and gives a neat look
It doesn't bulge
It has a zipper which makes it comfortable to wear.
AirSlim Backless Underwear Thong Shapewear
This shapewear is perfect when you want to throw a party or want to attend a party and are a little unsure of how you will look.
Helps in making formal and party dresses look edgy
Smoothens stomach fat and lifts the butts
Straps that can be crisscross or any way you like.
Extremely comfortable.
AirSlim Seamless High Waisted Tummy Control Shorts
These have a fabric that is a mix of nylon and spandex making it elastic,comfortable, breathable and good for skin. It is best shapewear for tummy and waist. 
It has straps that help it stay on the skin.
It helps to reduce stomach fat and thigh fat.
Overall shapewear has evolved and become more flexible according to the needs of the people. Some are must haves and some are as per necessary for a women's wardrobe.
Other than a shapewear there are waist trainers I.e corsets specially designed to reduce the waist fat and the fat from the love handles. They come with special fabric and clinchers that put the waist in proper shape and reduce the fat over time.