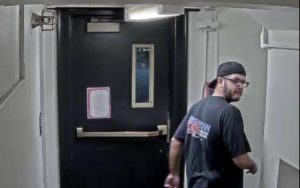 The US Federal Bank's Boulder Police Department announced at a press conference on Thursday that several campus dormitories reported robbery involving the theft of women's underwear from the laundry room.
The department reported on Wednesday that it is investigating a series of thefts and thefts in the Aden, Brackett, Cochler and Crossman residences in recent weeks.
According to the release, the suspected thief was described as a white male in his 20s with brown hair and brown beard wearing glasses. The suspect also wore a black baseball cap many times. After each incident, people were seen entering the dormitory from 2 am to 4 am.
The police also said in a press release that a woman reported that a man might have taken a photo or video of a female student who was taking a bath, but it is unclear whether the suspect in the theft of the underwear involved the incident.
CU Boulder police and community security officials will increase regular patrols on and off campus throughout the night, weekends and holidays.
Anyone who has a case or personal information is required to call CUPD at 303-492-6666. Those wishing to remain anonymous can call the Northern Colorado Crime Stoppers at 800-222-8477 or through the Crime Stoppers website.