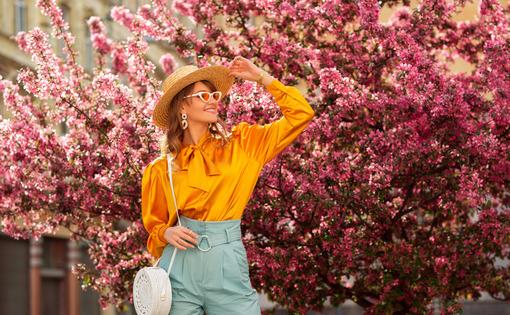 The flower season brings a range of options for women's fashion in the spring of 2023. Pieces with sequins, wider jeans and old trends such as the low waist, return with a new look. But how do you wear the season's trendiest items to match what you already have in your closet?
1- Glitter and sequins
Clothes with sequins that were very famous in the 80s are once again walking around on mannequins in stores as key pieces for spring 2023, thanks to the bright and dazzling sequins. They are elegant and were present at important moments in history, in the costumes of Broadway shows, where there was a mixture of sequins and beaded fringe. Or in the pop world with iconic pieces worn by Michael Jackson.
Paetê is a word of French origin, pailleté, and means brightness. So abuse this piece to be featured wherever you go. You can use sequins mainly to stand out at parties. A strapless, tight-fitting, well-waisted dress with pink and black sequin gradient looks very elegant.
A jersey skirt with silver sequins or a tulle crop top with gold sequins is super chic and sure to turn heads.
Depending on the event, you can innovate using even a shoe embroidered with sequins. Just like the red shoes worn by Dorothy in The Wizard of Oz.
2- Low waist
Speaking of Jeans, in addition to Skinners, you can forget about the low-waisted pants that became famous in the early 2000s and that were widely used by celebrities such as Britney Spears, Paris Hilton and Lindsay Lohan.
But you can use the trend in another way this spring, through low-waisted skirts and dresses. These items became very popular around the 1980s and are now making a strong resurgence in spring 2023. You can choose a low-waisted cotton midi dress with a floral print, a mini dress with thin straps and a low-waisted waist, or even a composite midi skirt by cheerful colors such as orange or royal blue that features the same low waist system.
3- Bubble skirt
The bubble skirt reappears with everything in spring 2023. They are great options for more formal events. You can wear a medium bubble skirt, in burgundy velvet, ribbed. A corset with lace or tulle will make you look very sophisticated and elegant.
Thin black pantyhose match the look and you can also include black high heels with gemstone details on the instep with a buckle-style strap.
Use accessories to your advantage. Include gold earrings with pendants and gold hoop bracelets. Avoid necklaces, leave your neck free to highlight the corset and pin your hair up or wear an elegant bun.
4- Comfortable jeans
Jeans are a very comfortable and versatile casual piece for everyday life. For spring, invest in loose, faded, bleached or light-colored jeans.
They combine with a variety of pieces such as a tank top, sweater and blazer. You can also create a more laid-back look with denim jackets.