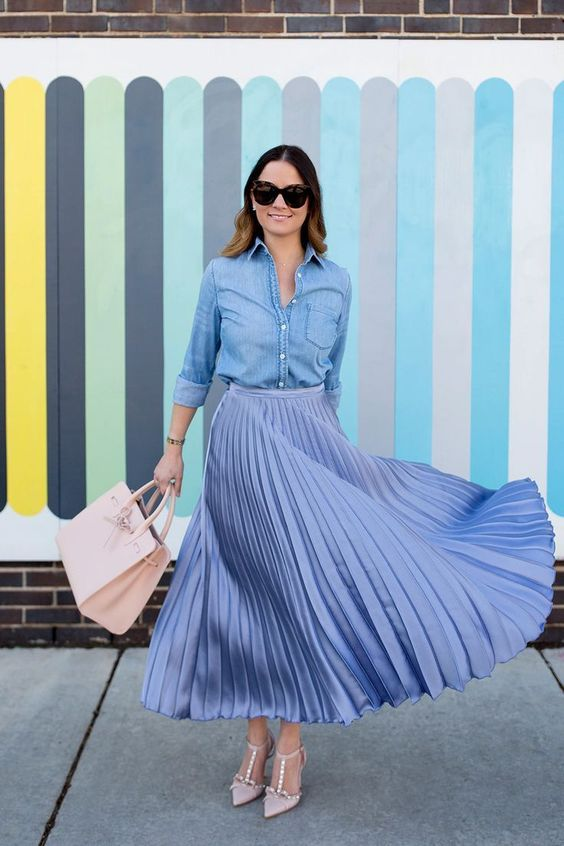 Spring is here! It is all about colors, soft hues, romantic silhouettes, and fresh florals. Spring is an ideal time to revamp your style and experiment with fashion. The weather will be a mix of warm and cool, allowing you to try out different looks. It gives us the ideal opportunity to wear those stashed skirts during winters. There is no better way to celebrate the Spring than wearing adorable, cute, and breezy dresses.
How to style a blue skirt in Spring?
Blue is a hue that is neither overbearing nor formal. It can maintain equilibrium. It comes in various shades, and each tells a unique story. Blue is a very neutral and sophisticated shade. Skirts in this color make you appear more prominent without overdoing it. Choosing what to wear over blue dresses can be a challenge, as there are many options. As Spring is all about vibrant hues, go for some bright and flashy colors to give a festive look. Blue is a versatile color that pairs well with various other colors. Mint green would be beautiful with a blue skirt. Yellow and orange will also look gorgeous. Additionally, black and white tops complement the blue dress.
There are many ways to style a blue skirt and various types of dresses. Here's a comprehensive approach to matching a blue skirt in a chic manner. With these suggestions, you will never go wrong!
With a white inner and blazer
Let's start with the professional work ensemble. Wearing the right outfit to work every day is a significant concern for any working woman. You can wear long, short, or midi skirts in the office. Pair your bold-colored pencil skirt with a white top and blazer to suit your work attire. Pumps and a cute statement necklace complete the look.
 With Color Tops 
When Springtime rolls around, floral prints will be a big hit! Pair a soft floral top with a blue midi skirt to bring some of that flowery freshness to your dress.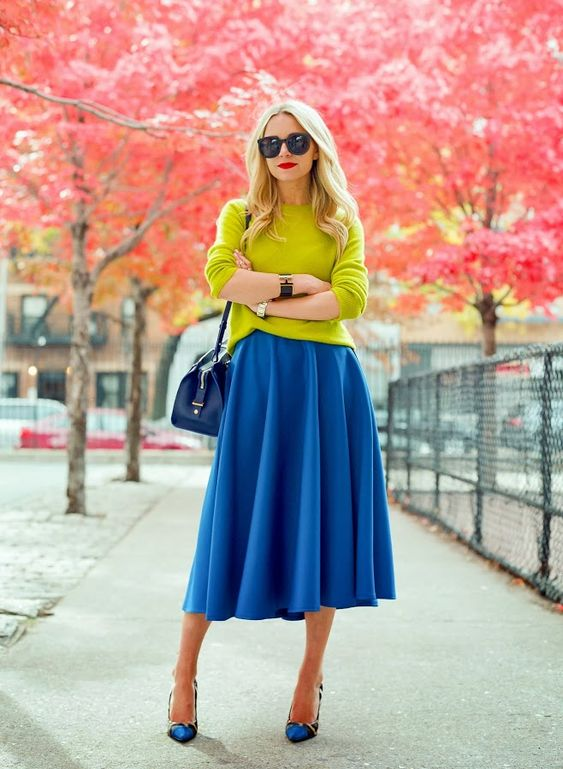 With neutral-shaded Tank Tops
If you're completely taken with the boho vibe, opt for a blue floral maxi skirt ideal for the upcoming Spring. Pair the vibrant floral skirt with a neutral-toned tank top to soften the look. Accessorize it with a long tassel necklace to transform your ensemble into a bohemian look.
.
With Bright colored shirts
Pair your blue skirt with breezy colors such as orange, red, or yellow for an everyday casual look. Spice up your attire with a blue neckpiece to get a perfect glamorous appearance for lunch or dinner.
With Striped tops
A sleek hairstyle, red lipstick, and a ruffled knee-length skirt with the striped shirt will add high-end fashion to a girl's night out in Spring.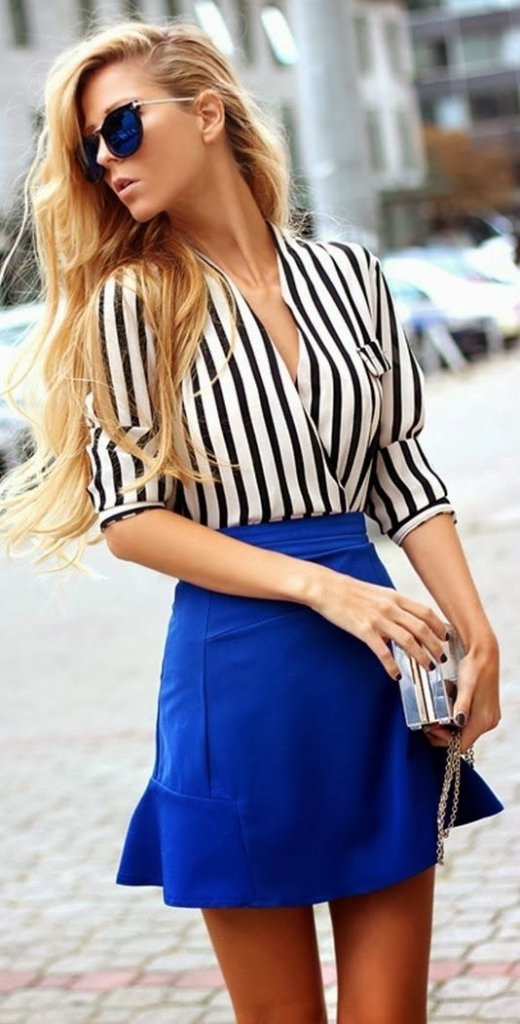 With Cropped Knits
This season, floral prints aren't the only pattern catching our eye. Also, appreciate dreamy polka dots and tie-dye prints for a moment. They look perfect with matching cropped cardigans for an antique look.
These were some ideas to match blue skirts in the blooming Spring season. WE hope this article provided you with an excellent approach to making your skirt outfit attractive, breezy, and classy.