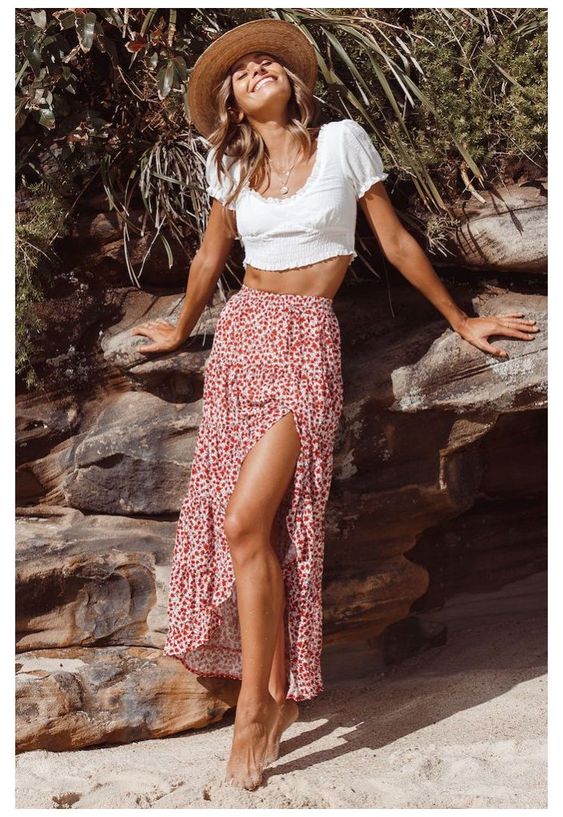 Summers scream beaches. We all love going to the beach. The waves, sunsets, our inner child comes through every time. Beaches are also a hotspot from those beautiful Instagram shots. You must have seen people post so many beautiful pictures of them posing at the beach with their amazing outfits. Don't you feel like recreating it or going and living that moment? Well, we got you! Beach skirts are a necessity when it comes to a beach outfit. They not only create a look but can also help prevent tanning. Here are beach skirts for when you feel like a model.
Long beach skirts
Long beach skirts make the attire very attractive. It is also the best way to protect your legs from tanning for a long time. This is also for those who don't like exposing their legs. The skirt may or may not have a slit. It comes in all different styles and cuts for you to choose from. If you don't mind showing off your legs then go for a slit one as it makes your legs appear longs and also shows off the swimsuit underneath adding to the flirty look.
Crochet skirts
You can find these skirts in all types of lengths and variations of patterns. The patterns show off the skin and swimsuit. The patterns give a sexy and stylish look to the attire. If you choose t wear the long one it looks really flattering and accentuates your legs. The different patterns and lengths can really change the whole look of the outfit/ So you can customize the look however you want. You can wear a long one with a slit for a sexier look and a short one for an acute, and more youthful look. But don't forget to wear your sunscreen cause you might end up with a patterned tan.
Wrap skirt
This is the most multipurpose item in attire. You might even have this right now in your wardrobe without actually knowing. You can easily put it on and remove it when needed without much hassle You can find these in different materials and lengths. Sheer, Mesh, Cotton, etc. You can find these in matching sets of 3(bikini set and wrap skirt). You can even DIY it y using any scarf that matches the outfit. These create a very cute and elegant look depending on the fabric and length.
Conclusion
Skirts have become very popular. Beach skirts are a stylish coverup that also helps to protect you from tanning, keeping you away from many diseases. Beach skirts come in so many variants and options to choose from. You can go for a cute look with a shirt wrap skirt or a sexy look with a crochet long slit skirt. You can play around with so many looks. If you want an affordable quick one just DIY it from a scarf that suits your swimsuit. There are so many things to choose from and play around with. So make sure you have fun!