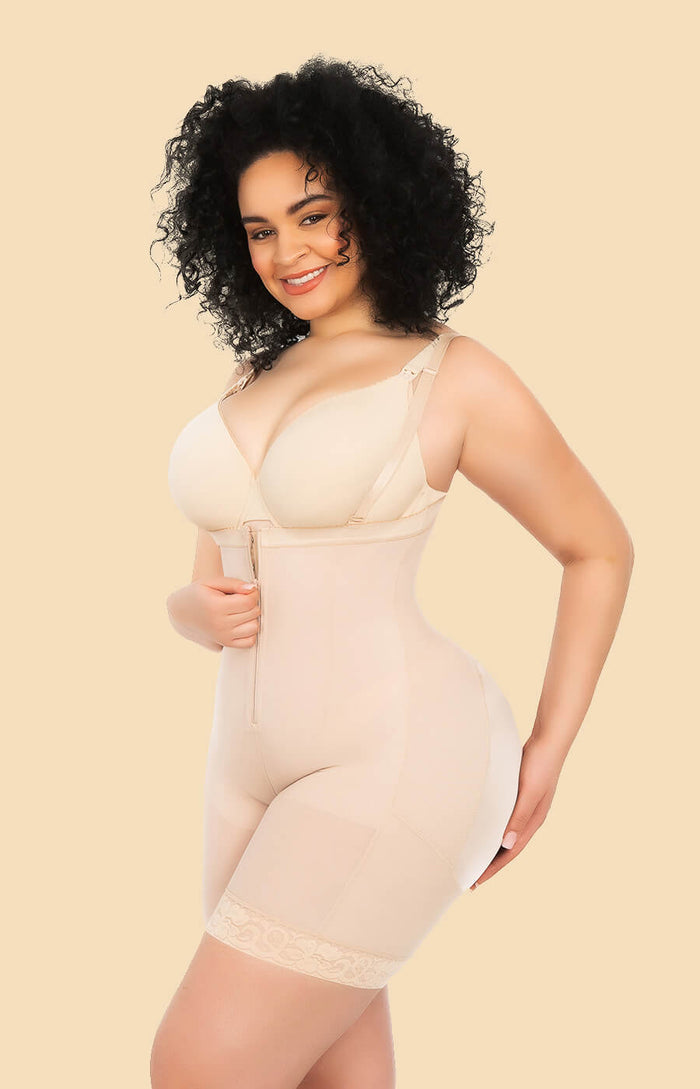 Lately shapewear products have become more and more popular and many women now own at least one such item in their wardrobe. And for good reason, because modern shapewear has innovative designs that allow the body to move freely, to breathe and to feel comfortable while at the same time reshaping it and making it look a lot slimmer.
Of course there are a number of shapewear items out there you could buy, depending on your needs, but mandatory for every woman should be the shapewear bodysuits. These shapewear items will contour your entire silhouette making it look a few sizes smaller while enhancing your natural curve lines.
There are 4 main effects of wearing a bodysuit: it will reshape your body making it look slimmer, it will improve your posture, you will be able to wear it all day long and it will boost your confidence.
1. The shapewear bodysuit will reshape your body
A bodysuit will make your waist look tiny, your abdomen will be flat, will hide any fat rolls you may have, will lift your breasts and your booty and it will also make your thighs look slimmer. All these while enhancing your natural curve lines. The final effect it will be a very natural one.
Of course, you can chose which plus size shapewear will be the best choice for you. You can go for a full bodysuit which will reshape your entire body, you can choose a tummy compression bodysuit with shorts which will reshape your waist, abdomen and also your booty and thighs or you can chose a thong bodysuit which will focus on reshaping only your waist, abdomen and lift your breasts.
2. The bodysuit will improve your posture
Another amazing thing about bodysuits and shapewear in general is the fact that besides making you look slimmer with a few sizes instantly, they will also improve your posture, especially the full body ones with high compression. Why? Because they will keep your back in the correct position the entire time you will be wearing it. Plus, if you will wear it constantly, you will also see that when you will take it off, your back will continue to be straight and in a correct position, as you got it used this way by wearing the body shaper daily.
3. You can wear modern shapewear on a daily basis
In present days, because shapewear is made out of soft and breathable fabrics it can be worn regularly, each day for more than 8 hours. And you should wear it on a daily basis, because only this way you will see the shapewear before and after results, which will be very visible: a thinner silhouette with a tiny and accentuated waist and an improved body shape.
4. Shapewear will boost your confidence
You should also have in mind the fact that by making you look slimmer, the shapewear bodysuits will also boost your confidence. You will be able to wear whatever clothes you desire, especially the tight ones you were so afraid to wear and you will look amazing. Why? Because the bodysuits are created in such a way that no one will know you are wearing one!