Everyone who enjoys wearing high heels should know how to keep their heels from hurting. According to research by American Podiatric Medical Association (APMA), approximately half of all women wear high heels. According to the same APMA survey, 71% of us say that our feet suffer when we wear high heels, and the impact of wearing heels extends far beyond foot discomfort. High heel pain is a problem for any woman nowadays; thus, making heels more comfortable is essential for anyone who enjoys fashion.
Heels With a Slanted Slope:
When we put our foot in a heel, our weight is moved forward. While this modifies our entire posture and may make our hips appear perkier, it can also cause your feet to suffer. The reason for this is that instead of your foot being placed flat on the ground as it should be, the weight shifts to the balls of your feet. The knees and hips push forward to compensate, and the back hyperextends to rebalance.
To avoid Hot Spots, Use a Moleskin or Anti-blister Spray: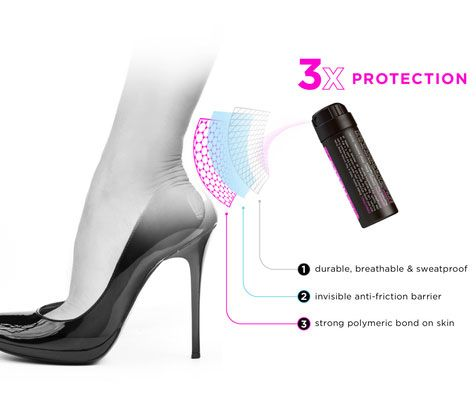 Moleskin is thin but heavy cotton with an adhesive on the back that may be cut and molded to fit parts of the foot prone to friction from shoes (such as around the toes and the back of the heel). Moleskin is also more durable than normal adhesive bandages, so it shouldn't bunch up or fall off after only a few hours on your foot.
Barefoot Scientist also makes a wonderful blister-prevention spray that provides an invisible barrier to skin to eliminate hot areas as an alternative to bandages. The formula is not just designed to be long-lasting, flexible, and sweat-resistant.
For Shoes That Are Too Big, Use Heel Pads:
It can be tough to locate that perfect Cinderella pair of heels. The fit varies greatly between brands, and not all carry half sizes for customers who require them. However, if you wind up purchasing a little too-large pair that you can't live without, heel cushions can assist fill in gaps at the back of the shoe to prevent your foot from sliding forward. Furthermore, they will act as an additional barrier against friction, which might cause blisters.
The Toe's Shape:
It's fairly uncommon to hear someone advise you to avoid pointed-toe shoes favoring a more rounded toe. While this makes sense in principle, the form of the toe may play a different function in practice than you believe.
Suppose you have pain on the side of your foot, either at your baby toe or your big toe (or the 'bunion zone,' the height of the vamp (the lip of the toe portion) can be essential.
The shoe's insole can also be useful in this situation. It is recommended that you use a leather insole.
The Heel is Thicker for a Stronger Base of Support:
The higher the heel, the more difficult it is to maintain balance. Starting with no shoes on is a simple approach to thinking about your support base. Your feet should be shoulder-width apart. If you want to put it to the test, have someone give you a gentle push. Then, on all fours, have someone gently push you again. Stand on one foot again and try again.
Conclusion
Fashion and comfort should go side by side. While wearing heels, you should also focus on your comfortable gait. These few tips and tricks would benefit you and increase the beauty and comfort of your high heels.