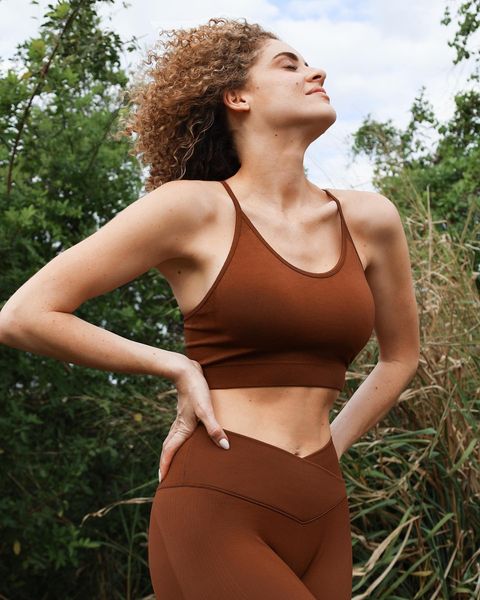 We know how to choose activewear suited to our body type and personal style makes all the difference in our self-esteem. We want to go to the gym feeling good and confident about our bodies. So it's important to know what suits us.
Look in the mirror!
Before we buy an outfit, we should look in the mirror, and understand what our body type is like, and for a sports outfit, it's the same thing. Even more so because this type of clothing is usually glued to our body, that is, it highlights our curves. That way, we have to be fully aware of the parts we want to value, and the parts we want to hide.
In addition, we must respect our personal style. Sometimes we get lost, buying something that we think is beautiful in someone else, but that doesn't suit us so much. The important thing is to use what we like, and what we feel good about.
Cosmolle
And that is Cosmolle.com's mission. For those who don't know, it's an online store that sells women's underwear and activewear, with a main focus on comfort and self-care. For the brand, we must first love ourselves, and take care of ourselves. When we're good on the inside, it reflects on the outside. Here are just a few of the amazing pieces you'll find in the store:
You will definitely fall in love with the yoga sets, they are perfect! They are clothes that match all types of bodies and taste too. You can put together gym looks, and looks to go out to. Just throw a jacket over the top, and you're ready to go for a walk with your special someone. Or even, going to solve tasks on the street.
Why you will love Cosmolle
Cosmolle's clothes have recycled nylon, so the fabric is very soft and smooth and with a buttery texture. You'll feel so comfortable, you won't want to take your clothes off.
If you love a basic little black dress, this set is ideal for you. It's perfect for colder days, and because it has 3D printing technology, the clothing fits your body shape and values your curves.
Cosmolle's shorts are sewn in a puckered way on the butt so that it helps to cram it. In addition, your legs will be more modeled, and without apparent cellulite. Another very interesting thing is that Cosmolle's fabric has collagen, which helps to give more firmness and hydration to the skin.
As you can see, in addition to being a sustainable brand that cares about the environment, they also work with high technology to offer their customers quality clothes with great taste.
The sports bra and shorts set cannot be missing from your wardrobe either. It's a set that will be super versatile in your day to day, it will be the basis for putting together looks that have to do with you and are in your style.
Visit the store, and see how many beautiful pieces you will find. I'm sure you'll find clothes that are ideal for your body type and your personal style.